A Big Ask
is Australian vernacular.
Like so much Australian slang it has multiple meanings depending on when it is said, by whom and in what tone.
It means to ask for help or assistance that is above and beyond what is normal.
It means something is being asked of you that would cause you to stretch (physically, metaphorically or emotionally).
It is what is being asked of people who have survived the bushfires and of those who are trying to help them.
I live 12000 miles away from my home country and I watch on the television and listen to the radio as it is being physically excoriated. There are parts of my childhood were there is nothing left. And other than offer money there is nothing I can do.
I cannot give the blood they so desperately need to help burn victims.
I cannot give the toys and books my children would be so ready to part with to help those who have been left in a state of shock and bewilderment.
I am not even close enough to go and help make the bags
to be filled with items that can alleviate some of the horror for these families.
I have a big ask of you who read this blog.
By the weekend I will have a list of items that will be raffled off here to raise money for the Australian Red Cross. Please come back and tell me you have donated to the Australian Red Cross Bushfire 2009 Appeal and I will enter your name once for every dollar you donate.
Please click on some of these links to find ways you can help those who are in desperate need.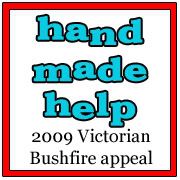 Melly&Me
,
Ric-Rac
,
Australian Red Cross
,
Curly Pops
,
Bushfire Quilt Project
,
WhizzMe